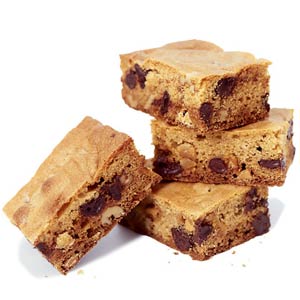 Just a week ago, I took my first stab at blondies…and I cannot stop craving them! So much that I just popped the last square into my mouth from the batch I made only six hours ago. Thank goodness for my toaster oven and the ability to scale down recipes (I made a 25% batch). I'm not a huge brownie fan, so the blondie is an awesome satisfaction for bar-cookie cravings. In lots of ways, it's nothing more than a super-loaded chocolate chip cookie baked in a cake pan, but the flavor is phenomenal because of the use of brown sugar.
Since I've made these two batches (ahem, in one week), I've been trying to think of new ways to change it up and make lots of different ingredient combinations. I've only come up with a few, though…in the last hour, I mean, while picking at the remains, wondering how I can justify making a few more…

• Toasted pecans and toasted coconut with combo semi-sweet and white choc. chips
• Orange zest and toasted pistachios with milk chocolate chips
• Toasted hazelnuts and dried cherries with white choc. chips
• Orange zest and Craisins® with white choc. chips
• Coconut and drained pinapple chunks with semi-sweet choc. chips
Mmmm. I'll definitely have to give all these a try!! In the meantime, here's an awesome Basic Blondie recipe:
1 1/2 cups flour
1 teaspoon baking soda
1/2 teaspoon salt
12 Tablespoons butter, melted
1 1/2 cups light brown sugar
2 eggs
1 tablespoon + 1 teaspoon vanilla extract
1 cup white chocolate chips
Preheat oven to 350º F. Prepare a 13″ x 9″ baking pan by lining with foil or parchment paper and spraying with oil.
Whisk flour, baking powder and salt together in small bowl. In medium bowl, whisk butter and sugar until well-blended. Add eggs and mix well. Add vanilla and mix. Add flour mixture and fold gently, just until mixed. Add chocolate chips [and any additions you would like] and gently stir.
Pour ingredients into prepared baking pan and smooth top with spatula. Place in oven and bake for 24 minutes or so, depending on your oven temperature, rotating the pan halfway through the baking time. Allow to cool on wire rack (about two hours), then remove from pan.
Enjoy. Sharing optional!