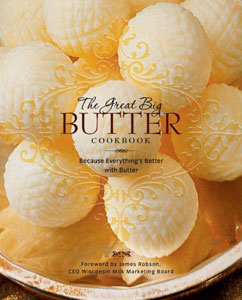 …and I couldn't agree more! I'm a total advocate for "the real thing." I love what Christopher Kimball recently said on the taping of a live show for America's Test Kitchen. Of course, this was said as he was adding 3 sticks of butter to a cake, "If you want a low-fat dessert, eat an apple." Which only proves, yet again, the title of the book. Everything really is better with butter, aka The Real Thing.

When I received The Great Big Butter Cookbook, I eagerly tore through it, entirely expecting a book on lecture and facts of why butter is better than the hydrogenated oils, all-natural commentary, and more (which me and my geeky-self totally would have loved). Nope. Not even a little (well, other than the forward, written by James Robson, CEO Wisconsin Milk Marketing Board). It really is just a big book of recipes that use butter. And, after reading through every page, I wouldn't have it any other way! I love it!!
I adore books that get down to the basics, a simple recipe that is meant to draw family and friends together. In all honesty, if either of my grandmothers still alive, I feel that this is a book they could have written themselves (of course, my maternal grandmother did spend her life on a cow farm, so it would have been a highly appropriate book for her), as the recipes are so simple, yet so nostalgic and inviting.
It seems as everything in the book is just that (the basics)… but, the very perfect, and very necessary basics. In fact, it almost seems as the Joy of Cooking, but for the simpler life (sorry, no squirrel recipes here). I can honestly say that it is a book I would turn to first in the moment of needing simple, fast recipes for appetizers or last-minute get-togethers.
Since I am an infamous dog-earer (if it wasn't a word before, it is now!), here are a few of the recipes that I have dog-eared for future menus (ahem, or midnight munchies):
Spiced Nuts & Candied Nuts (p. 9)
Scone Sandwiches (p. 24)
Open-Faced Apple Omelet (p. 74)
Herbed Dinner Rolls (p. 104)
Macaroni and Cheese Soup (p. 146)
Grilled Havarti Sandwich with Spiced Apples (p. 155)
Make-Ahead Mashed Potatoes (p. 172)
Savory Stuffed New Potatoes (p. 175)
Iced Cardamom Cutouts (p. 311) [an awesome Holiday cookie recipe)
Orange Five-Spice Sugar Cookies (p. 318) [see my review of this recipe below]
Well, this is my "short list" of the many wonderful recipes of this 469-page recipe book. And to be honest, this book actually inspired a midnight phone call to my mother, to ask her about her years on the farm and all the recipes she used (oh, how I envy her memories of farm fresh dairy)! As my mother said, because I am the youngest, by the time I came along, "from scratch" recipes were a dream of hers, replaced by box cake mixes. Obviously, the passion still managed to work its way into my genes. It was still fun to hear about her family recipes, though, which drew me even closer to the book.
If you're looking for a book to bond you to your local farmers, get in touch with your inner-grandmother, or simply have a basic "all-inclusive" cookbook, this book won't fail!
Enjoy. Sharing Optional!
Orange Five-Spice Sugar Cookies
from The Great Big Butter Cookbook: Because Everything's Better with Butter, by Diana von Glahn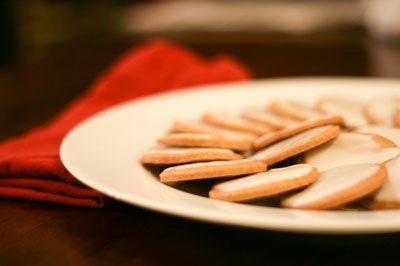 I'd actually call these more of a butter cookie, than a sugar cookie. Of course, that's probably because I didn't roll them in sugar, as the recipe states. Despite the fact that I cheated and made my own change to the topping, the cookies are fantastic! I'm already a sucker for anything with citrus in it, but the five-spice was amazing! Excellent combination with only the best … real butter.
3/4 pound (3 sticks) unsalted butter, room temperature
1 cup granulated sugar [7 oz]
2 large egg yolks*
2 tablespoons Chinese five-spice powder
1 tablespoon finely grated orange zest**
1/4 teaspoon salt [1/2 teaspoon]
4 cups all-purpose flour [18 oz]
Decorative Sugar, for dusting [or use glaze recipe, below]
Using an electric mixer, cream the butter and sugar until light and fluffy. Beat in the egg yolks, one at a time, then stir in the five-spice powder, orange zest, and salt. Then stir [sift] in the flour. Continue to blend until the dough comes together and is evenly mixed.
Divide the dough into three flattened discs, wrap in plastic wrap and chill for at least three hours [1/2 hour] or overnight. [If you chill longer than 30 minutes, you'll want to rest at room temperature before rolling out the dough, otherwise it will too stiff].
Preheat oven to 350º F. Butter [line with parchment paper] two baking sheets.
Work with one disc at a time; roll out to 1/8-inch thickness between sheets of lightly-floured wax or parchment paper [I found no need for the flour]. Using a knife or cookie cutters, cut the dough into shapes and place on the baking sheet [lined with parchment paper]. Work in batches, keeping the remaining dough chilled until you are ready to use it. For the best defined-shapes, chill the cookies on the baking sheets for about 5 minutes before baking [uh, I skipped this step, too].
Sprinkle the tops of the cookies with decorative sugar and bake for about 8 minutes, just until the bottoms are brown [I did five minutes, rotated the baking sheets, and baked another five minutes]. Transfer the cookies to a wire rack to cool [this is why parchment is so handy…you can just slide the entire sheet of parchment, cookies still on, to the wire rack to cool].
*Freeze the egg whites so you can bake the Mile-High Lemon-Buttermilk Cake with Lemon Filling another time (p. 398)
**Zest and freeze more orange zest to make the Bittersweet Chocolate Orange Butter (p. 456)
Easy All-Purpose Cookie Glaze
1 cup confectioners/powdered/icing sugar
1-2 tablespoons milk
a few drops of flavoring [I used orange oil, to match the cookie flavor]
Blend well with fork, spread evenly on cookies, allow to harden.