It's frustrating when you don't have the exact pan that a recipe calls for. Or, what if you want to halve the recipe, or quarter it? What size pan do you use? Well, I've spent so much time calculating this (repeatedly), I finally got smart and made a chart! I decided to share.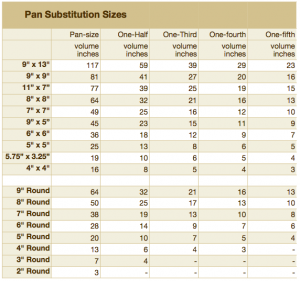 Isn't it lovely? (clickety on the image for a larger, printable view).
Yes, you can substitute an 8 x 8 square pan for a 9″ round one; the only consequence will be the shape. If you want to do half of a recipe that calls for an 8 x 8 recipe, simply look at the row for the 8 x 8 pan, then under the header "one-half," which says 32. In the left column, we don't have a pan that is exactly 32, so you have a few options: 6″ round or 6 x 6 square would be your best options.
Looking for some good pan suggestions?
Calphlon Nonstick 9 x 13 pan
Calphalon Nonstick 8 x8 pan
Chicago Metallic 9 x 9 Nonstick pan
Chicago Metallic Nonstick Mini Loaf 5.75″ x 3.25″
Chicago Metallic 8″ Round Nonstick Cake Pan
Chicago Metallic 9″ Round Nonstick Cake Pan