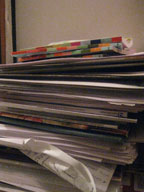 Love it! Love it!! Love it!!!
I've always been a "paper girl"—I would have stacks and stacks of paper of recipes that I was dying to try. However, eventually, they become a frightening mess. Despite my efforts to recycle, I saw that effort being undone by my waste of recipe printing. (note photo—yikes!)
I've tried many things…I believe this is the order in which they progressed:
Printing recipe; storing in binder
Printing recipe; storing in big piles
Finding recipes; adding to Delicious
Finding recipes; saving as PDFs on my computer
Finding PDFs; printing and storing in big piles
Enter: MacGourmet
I spent two or three hours seeking the recipes online that I had printed once-upon-a-time. Then, those recipes that seemed as those I really wanted to make, I used the simple keyboard stokes (genius!!) to import them perfectly into my program. I could insert a photo, if I chose, assign categories, and even courses to meals. These are all customizable, of course (love it!!)
Of course, now I've just taken a bunch of paper and put it on my computer, which resulted keeping my laptop on the kitchen counter. Better, but not ideal.
Enter: MacGourmet Touch
Wow!! Having my recipes RIGHT in front of me, complete with photos, shopping lists, recipes notes, blah, blah, has been fantastic!! I don't even worry about spills, as I store it under a piece of saran wrap to protect from any misguided splatters. The setting to keep the iPhone (or iPod Touch) from going to sleep keeps the recipe alert and ready when I'm ready to scroll to the next directive.
I LOVE having my recipes with me when I'm on the go. When a craving hits for a particular dish, I don't have to curse myself for forgetting an ingredient while at the grocery store—because it's always at my fingertips! The shopping list feature is worth the $4.99 in and of itself. With the ability to add, edit and remove items while on the go—it beats out a paper list any day!
If you've been holding onto your five dollars for fear of value…it's time to let it go. As consumers, we definitely are getting a bargain!
MacGourmet Touch at iTunes Store
MacGourmet program for your Mac (you need the base program to use the App)