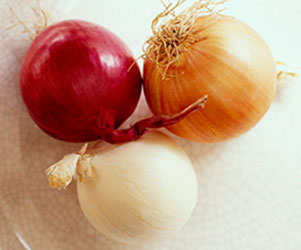 As tomorrow is Sunday, the Sabbath Day, I prefer to "rest" and cook the very least amount possible. Not because I want to rest from cooking, but rest from cleaning! :D So, I try and do most of my preparation on Saturday; thus Sunday Dinner is a quick meal, but enjoyable. Ironic, as for most families, Sunday is the "big meal." It used to be for us, as well, but then I got jealous while hubby napped and enjoyed his Sabbath while I was in panic—not his fault, I'd rather him nap than be under my feet in the kitchen. Only for prep, though…cleaning is another matter. :D Anyhow, for tomorrow, I am making a nice Slow-Cooker meal of Chicken and Chorizo. Yummy! The recipe calls for three fresh onions…even though I have them, I tend to guard them closely when there are seven inches of snow outside my door, and I know I won't be getting to the store to replace them anytime soon. So, I headed to my pantry to pull out my restaurant-sized container of dehydrated onions, which I keep on hand for such an occasion. As I grabbed them, I was brought back to a memory of what I might consider my worst kitchen failure, ever…

It was just over six years ago…hubby and I were living in a teeny one bedroom apartment with a teeny kitchen. To be honest, I don't even remember if there was a stove or oven, since I never used them. Ugh. Memories can be painful. At some point, I had snagged a small crock pot at the local dollar bargain store and was proudly going to make "mac 'n cheese." Hubby has always said he loves onions, though I constantly [at the time] snubbed them. But, I figured love ought to conquer in this case, so I proceeded with the recipe, which called for 1/2 cup diced onions. Well, I had never bought an onion, nonetheless cut one, so I bought diced dried onions. However, I was totally oblivious to the fact that they couldn't be substituted cup for cup. Oh, the horror. So, proceeded to measure out the 1/2 cup and plop into the crock pot, along with the other ingredients. And since hubby liked onions so much, I threw in some more. Knowing that the meal would take several hours (enter the joy of slow cookers), we left the house for a few hours. The potency could be smelled down the hallway upon our return! Not being one to admit defeat (read: swallow pride) so easily, I insisted it was fine. I don't know that hubby ate any, but I tried a bite of it. To save the gory details…
Dried onions can NOT be substituted cup for cup. In fact, You use about 25%-33% dried as you would fresh. Plus, they need to be rehydrated in cold water, prior to using in the recipe. I generally use two to three times more water, than dried onions, wait about 15 minutes, then strain off the excess water. Let me emphasize here, this does not work in all recipes!! Especially in those that require that you brown the onions, to add a caramel flavor. If the onions are specifically there for flavor (egg omelet, soups, stews, etc.), then I say take the shortcut, if you're not willing to buy fresh (or are feeling a wee-bit snowed into your home).