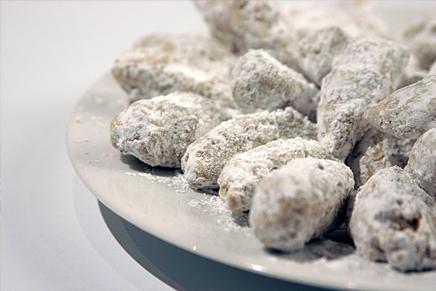 The Christmas Pearl is a Christmas book with which to get you into the Holiday Spirit, complete with many family heirloom recipes, many of which the titles simply pique your curiosity. Among my most interested, were the recipe called Sands. A simple recipe (as most were, when a wooden spoon and your hands were the main kitchen tools), but seemingly familiar. I think it is so inviting because of it's simplicity and that it doesn't demand perfection. Just a lot of love.
In the spirit of the book, I invited my hubby to help me make the cookies, which truth be known, is something I don't normally do. I really do display my OCD in the kitchen, especially when baking. As I said, the book commands a spirit of wanting to have the whole family help, resulting in the love and Spirit of the Holiday, not the perfect outcome. So, together we rolled the cookies and laid them on the sheet. Of course, I couldn't totally let go of my OCD, so I would try and re-shape a few. There was an air of excitement as I pulled them out of the oven (after my yelp! from brushing my palm against the oven wall). We popped them in a paper bag full of powdered sugar to dust them and let them dry overnight.

I did sneak a taste before they were covered in sugar, and my first thought was they were so bland! After I completed the last step (rolling in sugar), they were so beautiful–and much tastier. They were delicious last night, but this morning they were fantastic! Truly a gift worth packaging and sharing with co-workers, neighbors and teachers. But, most importantly, it is a recipe the whole family can enjoy.
Sands
3 sticks butter, room temperature
18 tablespoons powdered sugar, sifted
4 tablespoons vanilla extract
2 tablespoons water
4 1/2 cups self-rising flour, sifted
3 cups chopped pecans
half box powdered sugar
Preheat oven to 325º F.
Cream butter and powdered sugar. Add vanilla and water. Gradually add flour. Stir in pecans. Form into rolls as large as your thumb. Bake for 15 minutes, or until lightly browned, on a greased cookie sheet.
Sift half a box of powdered sugar into a paper bag. While cookies are still warm, shake in the bag to coat. Let cool and store in a covered tin.
Yields 3 to 4 dozen.
(P.S. I did use walnuts, as opposed to pecans, and toasted them until slightly brown before chopping).
The cookies are fantastic, super easy, and really will draw your family together, no matter the ages.
This review can also be seen at JustBaking.Net