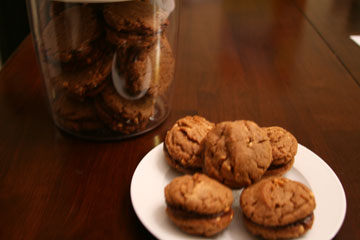 the clean plate club hosted a Cookie Carnival for the month of February, and of course, I had to get on board! The host sent out a cookie recipe, for which each participant is asked to make the recipe and post our individual results. At first glance, I was nervous that perhaps I had not received the recipe in its entirety, as the cookie is entirely gluten-free…only to remember that I had made a cookie like this previously, and that the peanut butter did more than enough for the structure of the cookie as my recipe for the flourless peanut butter cookie.

The two recipes are very similar, but this recipe (as printed by Fine Cooking) called for less sugar, resulting in a more peanuty cookie. This worked very nicely, though, as the filling is very strong (butter and chocolate…yum!), so the two balanced out very nicely. The cookie is extrememly simple to put together, and barring peanut allergies (sorry, oh, nephew of mine!), totally kid friendly! After all, with only four ingredients, plus a yummy chocolate filling, what kid wouldn't want to have a hand in it…probably quite literally. :)
So, thanks, clean plate club, for a fun Cookie Carnival Challenge!
Peanut Butter and Chocolate Sandwich Cookies
from fine cooking magazine
makes about 30 sandwich cookies or 60 single cookies

cookies:
2 1/2 cups smooth peanut butter, at room temperature [640 g]
1 1/2 cups firmly packed light brown sugar [10.5 ounces]
1 tsp. baking soda
2 large eggs
2 tsp. pure vanilla extract [paste]
chocolate filling:
10 oz. bittersweet chocolate, coarsely chopped (about 2 cups)
4 oz. (8 tbs.) unsalted butter, cut into pieces
Make the cookies:
1. Position a rack in the center of the oven and heat the oven to 350 degrees. Line cookie sheets with parchment paper.
2. In the bowl of a stand mixer fitted with a paddle attachment (or in a large bowl with hand mixer) beat the peanut butter, brown sugar and baking soda on medium speed until well blended, about a minute. Add the eggs [one at a time, mixing thoroughly after each addition] and vanilla and mix on low speed until just blended, about 30 seconds.
3. Shape level tablespoonfuls of the dough into balls about 1″ in diameter [I used a small cookie scoop]. arrange the balls 1 1/2″ apart on the prepared baking sheets. Do not press down [agreed…I tried both ways, and hubby declares that the those that were not pressed have a chewier middle, as they are thicker]. Bake one sheet at a time until the cookies are puffed and crackled, but still moist-looking, about 11 minutes. [Rotate sheets half-way] Cool cookies for about 10 minutes, then move to a cooling rack to cool completely.
Meanwhile, to make the filling:
1. Melt the chocolate and the butter in the microwave or in a medium heat-proof bowl set in a skillet with 1″ of barely simmering water, stirring until smooth. Remove from heat, set aside until cool and slightly thickened, 20-30 minutes.
To assemble the sandwiches:
1. Turn half of the cooled cookies over so they are flat side up. Spread 2 tsp. of the chocolate filling onto the center of each cookie. Top with remaining cookies, flat side down. Press gently on each cookie to spread the filling almost to the edge. Set on the rack until filling is firm, 20-30 minutes.
Enjoy! Sharing Optional.