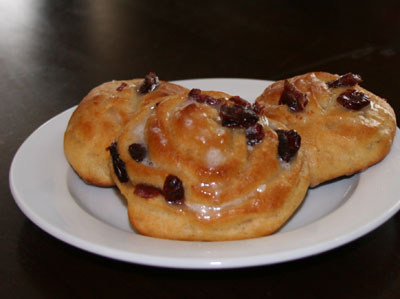 If you're a breadivore like me, anything with flour is enough to get you up and running to the kitchen! In this case, it is another fabulous recipe by Dorie Greenspan, part of the fun gang at Tuesdays with Dorie. In this case, it is a nice, sweet bread recipe studded with rum-soaked raisins on top of a simple, but classy pastry cream. Mmm.
Given my choice for abstinence in alcohol, I decided to take another route. I opted for some yummy craisins which I soaked in warm orange juice to help plump them and revive their flavor and size. To match that same flavor, I added some orange zest to the filling and in the icing drizzle. These turned out fantastic…and much easier than I had anticipated!
Looking at the photo, they look like the difficulty of a sweet bun or cinnamon roll, which seemingly requires a great deal of time and effort. Perhaps it is just the recipe, but these went through without a hitch, and the flavor beats those of any store-bought!
Happy Baking!!
Brioche Raisin Snails from Baking From My Home to Yours, by Dorie Greenspan